Get the Healthy Relationship Checklist
Receive weekly life and relationship advice.
Love. Life. Relationship. Purpose Strategist
™

: Life and Relationship Coaching

There is no life without relationship and there can be no relationship without life. ~ Kemi Sogunle

Coaching is a gradual process that requires you to make commitments. You must be willing to meet once a week or every fortnight for coaching sessions. Each program is customized and tailored towards your needs. We will monitor your progress to decide what is next. Each session may include homework and growth/self assessment.
How we meet: We will hold sessions via
Skype/FaceTime
In-person or
Over the phone
No matter where you are in the world, you will receive the help and support needed. All sessions are non-judgmental and strictly confidential.
Do you know that the number of seconds, minutes, hours, days, months or years you spend holding on to grudges or in an unhealthy relationship could be the best time you devoted towards building healthier relationships?

Take this FREE Self-Assessment and get a complimentary session with me.
I work with singles (including divorced) and married couples, who are ready to become successful in their relationships.

 As a Certified Professional Coach (listed on Self-Growth[dot]com as a Life and Relationship Expert, one of the top 10 Best Coaches in Maryland (Thumbtack[dot]com, a contributing relationship expert to The Huffington Post and dating expert on OlderDating[dot]com), I am available to help you:
Find who you are

Gain a deep understanding of love

Learn to live in your own truth

Understand your worth (self-love, regain your confidence and esteem)

Build a deeper relationship with yourself prior to finding love (become more focused and motivated towards a healthier and productive lifestyle)


Build healthier relationship with others 

Find the love you deserve

Resolve marital conflicts: intimacy, finance and trust

Understand God's purpose for your life  (find your essence and awaken your spirituality) and

Live abundantly and truthfully while moving from painful past to purposeful living (overcome life's challenges)

"Kemi is a very detail oriented coach, with a soft heart, and warm personality.  She can really help her clients see into themselves to find the best, and bring it forward!" - Terri Hase, MMC, PCC, BYCC, Senior Life Strategist and Mentor
"Kemi is an EXCELLENT Life Coach! I was looking for someone relatable, who could incorporate my beliefs into the coaching and I found the perfect person! She is gifted with much wisdom and a profound ability to help you see things from a different perspective. You will be changed to grow and be your authentic self! I am very blessed to have connected with her." - Katrina P (Thumbtack Review)
I offer Programs in the following areas:

Life Coaching is a gradual process to help you find who you really are, regain your confidence and self-esteem, grow into become a better version of yourself, develop positive habits and positive thinking, begin a healthier lifestyle and live purposefully.
Dating and Relationship Coaching allows you to identify your needs, recover and heal while identifying self-sabotaging patterns and learning how to set goals to become a better partner and find the love you truly deserve as well as Couples Coaching.
"This is an excellent program that touches on all facets of life: relationships, work, finances, relationship with God and brings them into wholeness. I'm excited about what is to come in my life. You are teaching me to change my present stage, connect with God and allow God to grace me, day by day. I highly recommend this program to everyone. It's a shame people don't often see why they need to work on themselves. This program will definitely change your life." - Coaching Client
"Let me start by thanking you for being a selfless and wonderful coach. You are so patient and you listen without judgement. Thank you, Kemi, for helping me move beyond my painful childhood experiences." - Lisa, Connecticut
Laces and Jeans™ Couples Program - Conflict Resolution, Trust and Intimacy (for couples)
"The materials you provided along with your books have helped me a lot with forgiving and forgetting the unfaithful attitude of my wife and has been keeping our marriage and family together. You are a gem." - O. M, UK
Spiritual Awakening/Awareness Coaching allows you to understand God's purpose for your life and helps you find your gifts and connect with your God-given purpose while living truthfully.
Online Self-Paced Relationship Courses
"Coach Me" Monthly Subscription

The "Coach Me" Monthly Subscription is designed to help you tackle a challenge of highest priority and achieve measurable results.
What You will Receive:
A 45-minute strategy session
Personalized goal worksheet and assessment
Complimentary followup email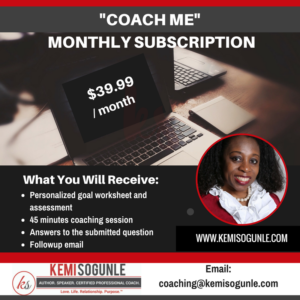 I am devoted to working with you to discover, achieve and move into a life of fulfillment that will lead you to begin walking in your purpose and building a strong and long-lasting relationship, that will make you become better not bitter.
Kemi has been named one of the 10 Best Life and Dating Coaches in Maryland, USA by Thumbtack.com and she is also featured as a Dating Expert on Older Dating UK website.
Wondering where to begin?
If you are ready to take charge, start living a healthier life and make better relationship decisions, take advantage of  the following options or contact me using the form below:
One-Time Laser Coaching Session - Investment: $67.00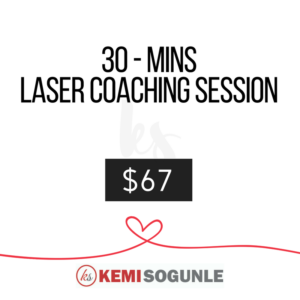 To Schedule a one-time strategy session, please tell me:
What is your current relationship status?
 What you would love your accomplish 3 months from now?
 What are some of  the biggest challenges you are facing at the moment?
4 Sessions Coaching Package - Investment: $397.00
Whatever your coaching needs are, no matter where you are in the world, do not hesitate to contact me  (to discuss your needs).
Need More Information?
Contact me by email at coaching@kemisogunle[dot]com, via phone: (443) 741-1249 for one-on-one/group coaching or couples program, fill out the form below:
Contact Kemi:
Testimonials
"I came across Kemi's Facebook page and followed her posts for a while. I took a step forward and hired her as a life coach. Kemi has helped me immensely to find and love myself in ways I never thought I would. I will definitely recommend her to anyone looking for a life and relationship coach." - John, F., Ellicott City, MD
"Kemi has been a blessing to me. Not only have I regained my confidence, I have learned to love and value myself more. She's an amazing coach." - M.A, Dallas, TX
"Prior to hiring Kemi as my coach, I used to think in one direction. My perspective about everything has changed since then. Kemi is a coach filled with wisdom and an expert at what she does best. I've not only found a coach but I gained a sister and friend." - Chrissy, Silver Spring, MD
"Wow! The feeling of release and recovery is unbelievable. It feels so weird yet so liberating. Thank you Kemi, for helping me get there." - Sarah R., Ireland, UK